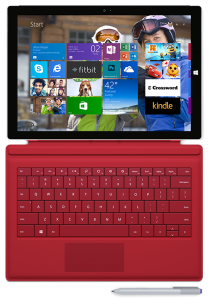 Surface Pro 3 is believed to be Microsoft's best bet against all other hybrid gadgets for 2014. Introduced in June, the laptop/tablet have undergone some tweaks and now the improved product is featured on various tech sites as an unmatched revolutionary hybrid with better enhancements while some techies are rivaling it against high-end laptops like Apple's MacBook Air.
Already preloaded with Windows 8.1 Pro that makes installing the Microsoft Office Suite (sold separately) a breeze, it is powered by 4th generation Intel Core processor with an aspect ratio of 3:2 to better produce more content with its 12-inch display. Its presentation is also compelling given the silver-colored magnesium shell while its upper half has a fan and vents for better heat dissipation which is not ordinary for thin tablets.
Fantastic Innovations
The Surface Pro 3 vies on the goals for better functionalities, better carry convenience and more versatility. It can switch from laptop to a tablet in a snap and with its multi-position Kickstand, it can provide you the right angle convenient during your work and browsing. Connecting to it with its peripherals is through its USB 3.0 and also on board is a microSD card reader, headset jack, cover port and Mini Display Port.
While the best laptops in the market also have the above mentioned required qualities, they lack what the Surface Pro 3 has. The Surface Pen, for one, can be used in marking up your presentations in PowerPoint, Word, Excel, OneNote or PDF. You can also sign documents right there on the screen. The Surface Pro 3, by the way, is a touch screen so you can imagine the greater handiness of it without the need of a mouse.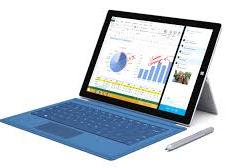 Will it match high-end laptops and tablets in terms of video and audio specs? Yes it can. The Surface Pro 3 has basically full PC capabilities. Packed up with unmatchable Full HD display you can enjoy fully your streaming videos nonstop. It also has dual microphones and stereo speakers with Dolby sound. With free downloadable apps like Facebook and Twitter, you can integrate your networking events anytime. The preinstalled apps like Skype and OneNote will keep you productive as well.
With wireless 802.11ac/802.11 a/b/g/n connectivity, the Pro 3 can connect to any Wi-Fi instantly. The battery can also last up to 9 hours with usual browsing. For its extra features it has an Ambient light sensor, Gyroscope, Accelerometer and Magnetometer. These you can find only on expensive tablets.
Let's see how its parts contend against the rest of its variety:
The Screen
The Surface Pro 3 is actually featuring a stunning 12-inch display with a wider entertainment view you always wanted from a large laptop. In terms of clarity and crispiness, its 2160×1440 resolution even surpasses MacBook Air of 1440×900. Weighing 2.40 and Macbook 2.60, the Pro 3 is among the lightest in Pro family but with the most refined essential components. Equipped with 2 5MP cameras that are capable of 1080p in video recording, the front camera would also produce a very clear image during video chat.
The Palm Block Technology is also applied here. With it, you can rest your palm right on the screen while writing or drawing without leaving any mark. Microsoft also made a slight alteration from the Pro's previous versions. The Windows home button was now moved to the left side for better expediency.
The Keyboard
What is a hybrid without the keyboard and Surface Pro 3's keyboard/cover is now a revolutionized Type Cover with a more solid latch on the lower bezel and double hinged with strong magnets for instant solid lock. As the cover can be slightly inclined from the screen, when you type on your lap only a small portion of the cover would be touching your lap. With the keyboard keys these are now much better-groved and the trackpad is wider but remained to be highly sensitive.
The Pen
The stylus is now called the Surface Pro Pen by Microsoft because the company wants to emphasize that using it is like using an actual pen on a brightly colored pad. The pen is made of aluminum finish with a functional clicker up top. Weighing like a real pen, you can use it in marking any document, highlighting and underlining your presentation. You can also turn your screen into a drawing board and create your own desktop design simply with its pen. By clicking the pen's top button you can instantly bring up a blank OneNote sheet so your writing by free-hand can be really easy.
The Kickstand
The Integrated Kickstand has 3 angle positions for your comfortable use. Right on the bus, on the plane's seat or in your office desk, the Kickstand is always adjustable and solid.
Camera
Two 5 megapixels cameras. Front facing camera is of 720p resolution while rear-facing camera can produce 2160×1440 HD resolution in video.
The Surface Pro 3 Varieties
There are 3 variants of the Surface Pro 3 so that it can deliver its goods to any type of individuals and match up their needs. All of these use 48 watts power supply.
The Surface Pro 3 with 64 GB, Intel i3, 1.5 GHz is best for browsing, light office work, reading, emailing, watching videos and listening to streamed music. It costs $799. Perfect for casual and everyday use.
The Surface Pro 3 with 128 GB and 256 GB are powered with Intel i5 with 1.9 GHz for speed. These are very ideal for the above tasks and also best in maximizing the full power of Microsoft Office such as PowerPoint, Excel and Word. It is also fast and reliable even with intensive multitasking, streaming videos and casual gaming. These costs $999 and $1,299 respectively. Right for students, artists and young professionals.
The Surface Pro 3 with Intel i7, 256 GB and 512 GB with 1.7 GHz are the most powerful among the variants. These are excellent for editing Videos in HD, using applications of professional grades and can be used for design and 3D modeling. These types are right for the professionals who need powerful laptops with high-level processors for more complex applications. Cost is $1,549 and $1,949 respectively.
The Surface Pro 3 can deliver all the specs you need from a laptop and tablet. Beautiful and totally functional, it is seen as the top contender in shelving out the most expensive laptops and tablets you can find in luxurious market today. With its amazing versatility, we cannot stop people from saying this is the ultimate foldable tablet and laptop in one that can deliver everything that's all about Microsoft.