Everyday we hear about some a company having its network and data breached. The scary part is it is done to large corporations that we assume have multimillion dollar IT security budgets. We presume them to be impenetrable. The fact is it can happen anywhere. Facing a data breach can be expensive and can ruin some businesses. But, there are some things that any company can do these days to help secure their networks more. The following will outline some useful security tips to consider.
Do away with passwords
This may be a scary thing to get your head around, but just follow along. The deal with passwords is you are entrusting all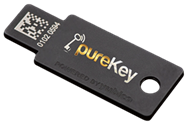 your users to set strong passwords and relying on them to change them regularly. But, many data breaches can be stopped if more stringent access standards were in place. One such method is to use hardware tokens rather than passwords. These are devices that are plugged into a computer that acts as a means to authenticate the user. When the user is done, he takes the key out. That way only the person in possession of the key can access the computer.
Encrypt Your Data
Encryption can be a big headache for hackers which is a good thing. Basically, encryption will scramble the data to an unreadable form if someone tried to read it over a network. The only way to see the data is if they have the key to unlick it. The downside to encryption is that it can be expensive to implement and it can slow down performance. However, the security benefits of encryption can be worth it in the long run.
Update All Systems
Keeping computers, servers, routers, firewalls and other IT assets updated is extremely important. New holes and exploits are found everyday. When they are found, software and hardware vendors will do their best to release updates for these exploits as soon as possible. It is important to apply these updates as soon as possible to remove any holes in your network. A delay can leave your company vulnerable to attack since the hackers will be scanning networks for these vulnerabilities.
Backup Your Data on a Regular Schedule
Data loss is almost impossible to recover from. Backing up your data should be seen as a last line of defense against hackers, and should be taken seriously. Assuming they can get past all of your other defenses, having a good data backup will enable you to recover if they delete any important information. On the other hand, if they are able to wipe out information and you have no backup it will not matter what other measures you have in place.
Keep An Eye on Connections
It is a good idea to monitor who is connecting to your network. It is not uncommon for companies to have external access to the network for employees. But, it is vital to monitor these connections and keep an eye out for anything unusual. Also, limit access to vendors by locking down accounts when not needed. Another good idea is to limit connections to certain locations. In other words, do not setup external access to be allowed from anywhere. Make it where it is only allowed from certain IP addresses.