It has been said that Adware is just Malware with lawyers behind it. Basically, that means that they are both disruptive, but there is usually a commercial enterprise behind malware. Adware may not have malicious goals in mind, but it can do just as good a job of screwing up your computer as malware. Adware can be bad because it can slow your computer down. But, it can also lead to viruses and other nasty Internet threats. It should be removed as soon as possible.
There is a free tool from Bitdefender that helps you find and remove adware running on your computer. It will help hunt and remove this software that will cause pop ads to appear on your machine or change your home page to something you do not want.
How To Download and Install the Free Bitdefender Adware Removal Tool
You can download the free Bitdefender tool at this location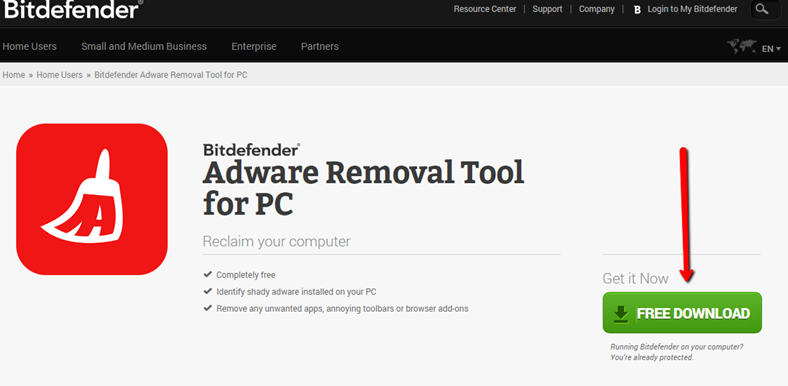 Click on the green button that says Free Download
You will get a box asking you to save the file
You will get to save the file to a location of your choosing. Make sure it is somewhere that you can find easily because this will be the file used to install the program. It is a good idea to save it on your desktop or in your downloads folder.
After the file has finished downloading, click on the .exe file to begin the installation.
During the installation process you will be asked to read the license agreement. It is a very quick installation process. Once the agreement box is checked, click on "Get Started" button to begin the scan.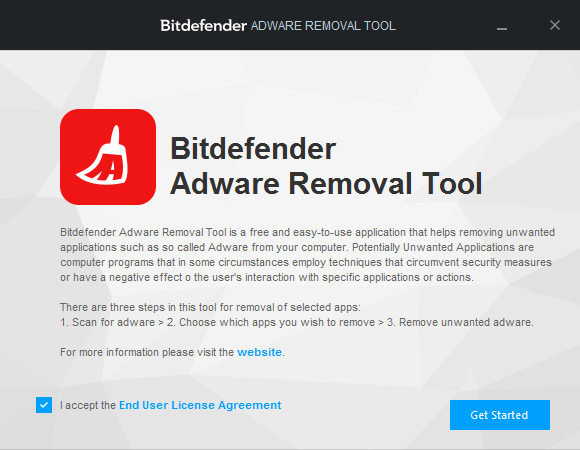 The scan will begin instantly. The scan process can take several minutes to complete. This will depend on the size of your hard drive.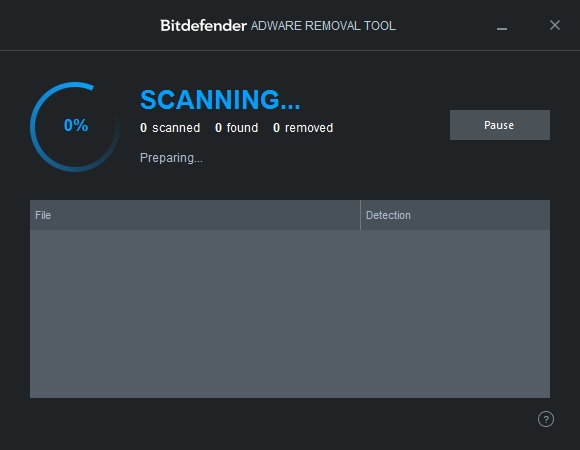 The results screen will show you if anything was found after the scan is complete. If it does find anything, it will give you the option to remove anything that was found.
If you think your computer is running slower than usual, there is a good chance you may have some adware or malware installed. If you are looking for a free tool to check the possibility of this, the Bitdefender Adware scanner is a good fit. It is a free tool so it will not have all the bells and whistles of a paid tool. For example, it will not provide real-time protection. This means it will not act as a constant shield to protect you from intrusive software. It will only find things when it is ran. Therefore, it is not proactive. It is a good idea to have a real-time virus scanner running at all times to prevent entry in the first place.