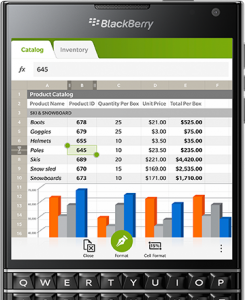 So it's true, Blackberry wants to buy your iPhone for up to $550 and you still get Blackberry Passport.
Checking the price of iPhone 6 now at Amazon, it costs $789 (16 GB) and $1,054 for the 128 GB while the Blackberry Passport's price is $599.99 (16 GB) and $645 for the 32 GB. The price of the iPhone is still costly but what's the big deal Blackberry would give you its latest phone model and pay you almost the price of your iPhone? Is this a desperate move on the part of Blackberry who seemed to be meeting its final days as it can't keep up with the mobile phone trends?
If you are an iPhone user, would you bite the trade off? That's the big question but obviously Blackberry is starting to get the attention with this marketing strategy.
The Great Deal
The promo started on December 1, 2014 and will last up to February 13, 2015. Depending on the model of your iPhone, there will be a corresponding amount starting from the iPhone 4S up to iPhone 6 excluding iPhone 6 Plus. On top of that, Blackberry also kicks in an additional $150 for each iPhone trade.
For example, iPhone 4S which started to get obsolete could fetch $90 plus $150 and that gives you $240 and you get your Blackberry Passport. For iPhone 6, the trade off price is $400 plus $150 and you have $550 and a
Blackberry Passport easy. Payment is made through Visa gift card but offer is good only in North America.
Since this once in lifetime deal came out, many iPhone users are now getting highly curious not only about the trade off but also about the specs of the Blackberry Passport. Let's talk about the Passport later and see what's happening with Blackberry and why it's causing some stirs.
Blackberry's Fight in The Present Global Market
Based from the research firm Strategy Analytics records, Blackberry has struggling years ever since the iPhone and the Android phone series came out. Gathering only small percentages in the smartphone global market, it only makes up to very diminutive share in shipment and market sale. For the 3rd quarter of 2013 up to 3rd quarter of 2014, Android phones have an average market share of 82% followed by Apple iOS of 12.5%. Microsoft comes 3rd at 10.2% while Blackberry trails at an average of .8% share.
Even though Blackberry has shipped 2,500,000 units in 2013 worldwide, the orders in 2014 dropped to 2,300,000, compared this to the Androids that has sold units of 205 million in 2013 and 268 million on 3rd quarter of 2014, the stats obviously illustrates Blackberry is really losing hold with the consumers' global demands.
So What's the Blackberry Passport?
The Blackberry Passport was launched only in September 2014. This is Blackberry's first flagship to come out since a new CEO took over in November 2013 in the person of John Chen. According to Chen, the Passport is geared towards attracting the "power professionals" or business people who still want to have their mobile phones with the physical keyboards.
So named after the size of an actual passport, the Passport has not delineated itself from the classic keyboard the Blackberry is best known for. As Marty Beard (Blackberry chief operating officer) added, the Passport has a unique "beautiful screen that allows you to be very productive".
The Passport from Amazon's presentation has a touch-enabled QWERTY keyboard and a wide touchscreen of 4.5 inch display. Accordingly, the Passport can be your tablet in a smaller form but powerful much like a small computer. Reviewers say this is a pretty solid phone but not perfect if your aim is to use it for video viewing because black bars will continually appear on your screen once it's on video mode.
The Good Sides
Because the Passport is made for the professionals though a lot of college students may like it, the wide screen will provide a better and wider viewing of your emails, blogs, PDF documents, spreadsheets, charts or e-books pages. The letters are larger, crispier and more readable. With a 13-megapixel OIS camera, the pictures and videos you shoot can be excellent. And unlike the iPhone 6 which is rectangular in size that makes up for strained reading. The Passport won't bend in your pocket also. It is also equipped with 4 microphones so you get audio quality at its best. Its non-removable battery of 3,450mAh can last up to 30 hours if you don't crank up its brightness and do not do multitasking.
Limited Features
However, because of its size, you may not like Passport's dimension occupying your whole pocket space if you are fond of pocketing your phone. You cannot hold it also using only one hand or you drop it. And as of late, its banding is still not compatible with US carriers that are CDMA based such as Verizon, US Cellular and Sprint but supports FD-LTE: 2,4,5,17 HSPA +: 1,2,4,5/6, 8,EDGE. That's why maybe Blackberry is trading this off as an "open network phone" for consumers' choice.
So what can keep you from laying your hands on the Blackberry Passport? Well, as have been mentioned, this is meant really for professionals or maybe for students, for those who miss the keypads, the usual readers and for those who still believe that Blackberry has it. Yet, if you are the techie kind of person, you will miss so many things without your iPhone. So it's up to you now if you want to grab the deal or stay with your iPhone.
Tell you what, if you already have an iPhone 6 but still has your iPhone 4s or 5 or 5s, maybe you could consider the barter with financial benefits. What do you think?