The 9.3-million-transistor AMD K6-2 processor was manufactured on AMD's 0.25-micron, five-layer-metal process technology using local interconnect and shallow trench isolation at AMD's Fab 25 wafer fabrication facility in Austin, Texas. The processor was packaged in a 100MHz Super7 platform-compatible, 321-pin ceramic pin grid array (CPGA) package.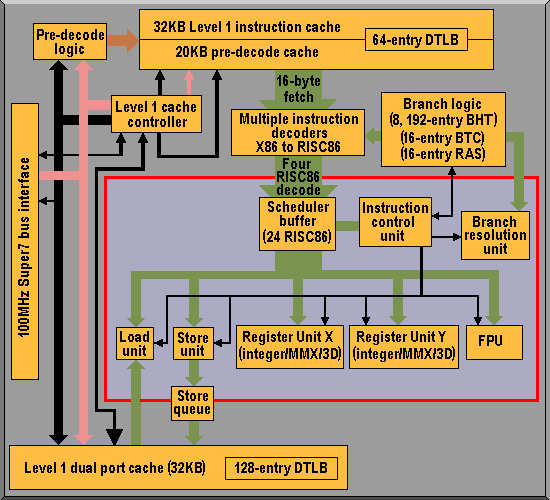 The K6-2 incorporates the innovative and efficient RISC86 microarchitecture, a large 64KB Level 1 cache (32KB dual-ported data cache, 32KB instruction cache with an additional 20KB of predecode cache) and an improved floating-point execution unit. The MMX unit's execution speed has also been tweaked, addressing one of the criticisms of the K6. At its launch in mid-1998 the entry-level version of the CPU was rated at 300MHz – by early 1999 the fastest processor available was a 450MHz version.
The K6-2's 3D capabilities represented the other major breakthrough. These were embodied in AMD's 3DNow! technology, a new set of 21 instructions that worked to enhance the standard MMX instructions already included in the K6 architecture, dramatically speeding up the sort of operations required in 3D applications.
The 550MHz K6-2 released, in early 2001, was to be AMD's fastest and final processor for the ageing Socket 7 form factor, being subsequently replaced in the value sector of the desktop market by the Duron processor.