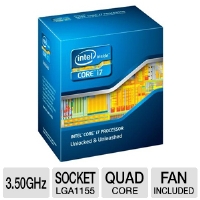 Finally, the long rumored and much hyped third generation Core processors were unveiled by Intel in April 2012.  This series of Intel processors is based on the 32nm second generation Core chip, Ivy Bridge. It is also the first implementation of the 22nm manufacturing process. In short it means that this new series of Intel's processors will perform with increased efficiency, consume lesser energy and will have a better cooling system.
Let us now take a look at Intel's flagship Ivy Bridge processor named the Core i7-3770K which can fit in the LGA 1155 socket. It has a total of 1.4 billion transistors on the board with a die area of 160 mm2. This is basically an unlocked quad core processor that comes with 8 MB L3 cache and interesting features included are PCI Express 3.0, Hyper-Threading, GPU shared 77w TDP, integrated Intel HD 4000 series graphics and Turbo Boost 2.0 support. It also offers a lot of overclocking scope.  The base speed offered by the processor is 3.50 GHz with the Turbo Boost which can go up to 3.90 GHz. The integrated HD 4000 GPU helps to increase the Execution units to 16. This about 33% boost over the previous generations.
The Clock speed on the HD 4000 graphics is dynamically managed and it utilizes shared system memory. The four cores of the processor use shared 8 MB L3 Cache which is also named as Intel's Smart Cache Technology. This processor is supported by a dual channel configuration at 1600 MHz. While some of the features of the Core i7 3rd Gen are carryovers from the previous Intel processors, but there are still a number of pleasant virtual surprises that can attract the attention of any computer enthusiast. The enhanced Directx class 11 graphics core and new security features have definitely taken the processor to the next level of microprocessors.
The Core i7 3rd Gen is a thing of delight for the DIY fans. If you have a Sandy Bridge (LGA 1155) 6 Series chipset motherboard then you can enjoy the benefits and stunning graphics performance by just adding in the new processor and updating the BIOS. You have to upgrade to DDR3 1600 memory as this generation core processor can only work with it. The best part is that all your heating issues will be taken care of as this new baby runs cooler and on top of all this there will be substantial savings on energy too!