Secure Digital (SD) is a memory card format used to transfer data between PCs and smaller devices, such as digital cameras, PDAs, MP3 players and mobile phones. Because the memory used is solid state, i.e. it remembers what's been written to it when the power is removed, the information stays on the card when it's unplugged. In order to get the data onto a PC, a card reader, either integrated into the PC or connected via a USB port, is required. Laptop users can also use an adapter that takes SD cards and fits into a PC Card slot.
A consortium of Matsushita (aka Panasonic), Toshiba and SanDisk developed SD because they had been outflanked by Sony's introduction of Memory Stick, their own proprietary card format, in 1998. This had two features that neither MultiMediaCard (MMC) nor CompactFlash, (CF) the other major player in memory cards at the time, possessed: a write-protect switch and integrated copyright protection.
SD came onto the market in 1999 and was based, at least physically, on the MMC format. SD cards are slightly thicker but this allows the contacts to be recessed to protect them from damage. The other major physical change from the MMC design was an asymmetrical profile, which prevents SD cards from being inserted the wrong way round. The closeness of the two designs means that MMC cards can be used in SD slots, but not the other way round. Multi-function card readers are available with a slot than can accept SD cards as well as MMC, SmartMedia, Memory Stick and xD-Picture Card.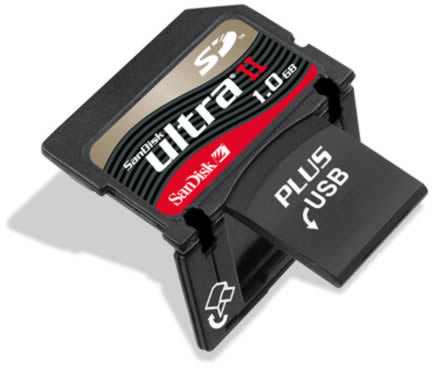 One interesting and innovative adaptation is SD Plus, a version of the full-size SD card developed by SanDisk and introduced in 2005. It features an integrated USB adapter that unfolds from the card to allow it to be inserted into a USB port, thus dispensing with the need for a card reader or adapter. This format has proved popular and other manufacturers have begun to bring out their own versions, either under the SD Plus banner and or branded 'duo SD'.
Security Features
The write-protect tab on SD cards is similar to that of a floppy disk, in that it covers or uncovers a notch in the side of the card. This allows people to protect their images and other information from accidental erasure. As far as the standard is concerned the tab is optional, which allows two variants of card to be produced that have their uses in niche markets. The first is a card without the tab or the notch, making it permanently write-able and cheaper to manufacturer, although they lose the write-protect function. The second variant is one without the tab but with a notch, so that it can never be written to. This can be used for information that shouldn't be changed, for example when distributing copyrighted software.
The integration of copyright protection, or Digital Rights Management (DRM) software, on SD cards took the form of Copyright Protection for Recordable Media (CPRM), a standard developed by the three companies backing SD and IBM. The CPRM software is intended to control copying and distribution of content on the cards, but has so far been largely ignored by the manufacturers of SD-enabled devices and card readers. Without the implementation of the necessary drivers and software CPRM is by-passed, and therefore ineffective.
Inter-operability
SD memory cards were faster than CF and MMC cards from the outset and got faster as the specifications developed. As with MMC, the data transfer initially used a 1-bit protocol, then 4-bit was adopted. There is also a third form of communication, a simplified version called SPI, for cards used with microcontrollers in embedded systems. With all cards required to conform to all three standards, inter-operability between cards and different devices was excellent.
Unfortunately when version 2.0 of the SD standard was issued, this inter-operability got somewhat muddled. The new standard, called SDHC (for High Capacity) introduced higher data speeds as well as FAT32 file system capability, allowing for card sizes of 2GB and higher. Unfortunately, the block size changed as well, and before SHDC was ratified, some manufacturers went out on their own with different block sizes for cards over 1GB, which are not compatible with SDHC. Devices that are compatible with SDHC will take SD cards, but the opposite is not the case.
To cut through all this, the safest approach is to stick to cards of up to 1GB for use with older devices and only buy larger cards for use with newer devices that clearly state that they are SDHC compatible. In addition, the cards should only be formatted in the device they are going to be used with, not on a PC, unless someone really knows what they are doing.
In terms of open-ness, the SD standard is patented and trademarked, so it is necessary to pay the SD Association to get hold of detailed interface specification. In practice, only embedded device manufacturers, who address the card directly via hardware, and card manufacturers, who need to ensure full compliance, need to do this. Over the years certain parts of the SD specification have been released into the public domain, usually because the open source community had reverse-engineered the specification in any case. Once this had happened, releasing the specifications concerned at least allowed accurate driver development. The wider PC hardware and software community have been protected from problems caused by this because, as SD card readers present a USB mass storage interface. So it has not been necessary to create SD drivers for PC operating systems, they simply see a generic USB device.
Miniature SD formats
Two smaller SD formats have emerged, mainly, but not exclusively, for use with newer, smaller mobile phones. MicroSD is about a quarter of the size of a full-size SD card, and miniSD is larger, being mid-way between full-size SD and microSD. The miniSD format is aligned more closely to the standards authority, the SD Association; microSD, for example, is not featured on the Association's website.
MicroSD was originally developed by SanDisk under the TransFlash product name before it was ratified by the SDA and renamed microSD. The miniature formats can be used in PCs with the help of adapters that bring them up to SD size, which are often sold in with the cards as a complete package. There are now also SDHC versions of both microSD and miniSD formats.
SDIO-based accessories
The definition of the SDIO standard, an interface that allows input and output using the SD connection, has allowed a host of other devices to spring up, not just memory cards, that can use the SD slot. Any computing accessory that can be made small enough can then communicate with (usually, but not exclusively) a PDA. Examples are GPS units, Wi-Fi and Bluetooth connectors, modems and the like, in fact almost anything that was available in PC Card (PCMCIA) format. Beware when buying these devices though, as they often require proprietary drivers and software and may not work with another manufacturer's kit.