Price: $127. The MSI 890GXM-G65 motherboard packs a lot of power in a very small space. Bang for buck you are getting a lot for your money.is an Intel 7 series motherboard. Socket H2 (LGA1155)
At this time the product has 2 positive reviews on Tigerdirect. Read Reviews here
Prices change all the time so check the latest price here
Newegg.com shows plenty of overall positive reviews of this product.
Quick Facts:
Brand: MSI
Model: MSI 890GXM-G65
CPU Socket: Socket AM3
CPU Type: Sempron, Phenom II, thlon II
Chipsets: North Bridge / AMD 890GX | South Bridge / AMD SB850
Number of Memory Slots: 4×240pin
Mem Max: 16GB (DDR3)
1066MHz to 2133MHz
PCI Express X1 Slots: 1
PCI Express X16 Slots: 2
PCI Slots: 1
SATA 3Gb/s: 4
SATA 6Gb/s: 4
SATA RAID: 2 x SATA 6Gb/s ports with RAID 0,1,5,10 support, 4 x SATA 3Gb/s ports with RAID 0,1,5,10 support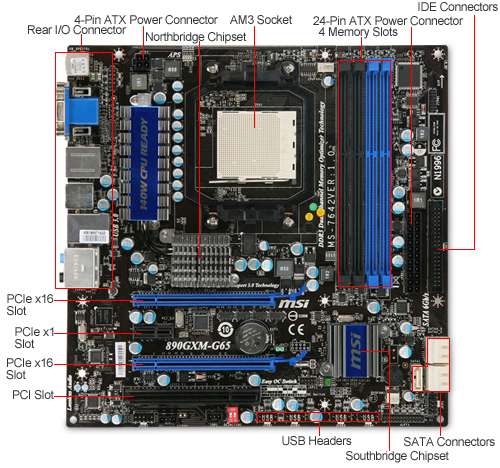 Audio 8 channels. supports raid modes 0,1,10,5. Total of 10 USB ports, 2 are USB3.0 and the rest are 2.0. 6 ports are in the back of the board. You do have S.PDIF connectors, VGA, DVI and a single HDMI port. Important to note that the HDMI and DVI-D port can not work simultaneously. The board is ATI CrossFireX ready.
We would recommend the ATI Radeon 6870 card with this board. Decent price all round.
Down side of this port is the PCI slots. There is only 1. This is not all too uncommon considering it is a Micro ATX board. Still a ton of great features where packed into this board.
I/O Ports

PS/2 Keyboard Connectors
1
PS/2 Mouse Connectors
1
USB Ports (Total)
10
USB 3.0 Ports
2
USB Rear Panel Ports
6
USB Onboard Headers
2 – (expandable to 4 USB ports)
LAN Ports
1
Audio Out Jacks
6
IDE Headers
1
Serial ATA 3.0Gb/s Headers
6
Serial ATA 6.0Gb/s Headers
5
ATX Power Connectors
1 24-Pin Connector
PC Power Connectors
1 – 4 Pin
Fan Connectors
2
S/PDIF Connectors
1
VGA Ports
1
DVI Ports
1
HDMI Ports
1
Size of board: 24.4cm(L) x 24.4cm(W) or 9.60in(L) x 9.60in(L)
See the latest price here or to make a purchase