One of the earliest and most significant standards introduced into PC hardware was IDE (Integrated Drive Electronics), a standard which controls the flow of data between the processor and the hard disk. The IDE concept was initially proposed by Western Digital and Compaq in 1986 to overcome the performance limitations of earlier subsystem standards like ST506 and ESDI. The term IDE itself is not an actual hardware standard, but the proposals were incorporated into an industry-agreed interface specification known as ATA (AT Attachment). The parallel ATA standard evolved from the original IBM Advanced Technology (AT) interface and defines a command and register set for the interface, creating a universal standard for communication between the drive unit and the PC.
One of the major innovations introduced by IDE was the integration of the disk controller functions onto the disk drive itself. The separation of the controller logic from the interface made it possible for drive manufacturers to enhance the performance of their drives independently – there were no performance-boosting features incorporated into the ATA interface itself. IDE drives connect straight to the system bus with no need for a separate controller on the bus, thereby reducing overall cost.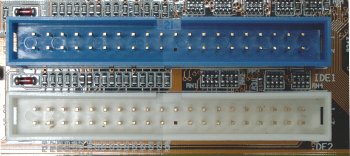 The mass acceptance of the IDE standard hinged on its ability to serve the needs of the market in terms of two important criteria: cost and compatibility. Over the years, these two factors have been more significant to mainstream PC users than high performance and as a result IDE rapidly became established as a mass market standard.
Since the implementation of the ATA standard, the PC has changed dramatically. The IDE specification was designed to support two internal hard disks, each with a maximum capacity of 528MB, and in 1986 this upper limitation seemed to be beyond all imaginable requirements for PC users. But within ten years, faster processors and new local bus technology (VLB and PCI) were introduced, and this combined with increasingly demanding software made the IDE interface into a performance bottleneck.