Many modern-day motherboards provide a number of USB pin headers that allow connection to USB ports mounted on the front of the system case. A header will generally contain 10 pins arranged in two rows of five. On some motherboards one or two pins may be marked as NC, for no contact. These pins a redundant. On other motherboards one pin may be missing in either one or both rows.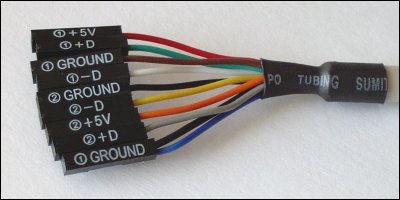 This is not a problem, since the connection between motherboard and a pair of front-mounted USB ports will generally involve the use of only eight connectors.
You'll need to consult your motherboard to ascertain the precise pin-out positions.
Generally, these will be labelled along the following lines:
Power pins: A power pin on each row, labelled as Power, Vcc, or +5V.
Ground pins: A ground pin on each row, labelled Ground, or GND.
Data pins: Two plus data pins and two minus data pins, both one on each row. These are typically marked as USBD2+/USBD3+ and USBD2-/USBD3-, or USBP2+/USBP3+ and USBP2-/USBP3-, respectively.
The Intel Front Panel Connectivity Guide recommends the following design for a pair of front panel USB connectors. If your motherboard is a recent design, it's likely it will be identical, or at least similar. The Wiring column indicates how the system case wiring illustrated above would be connected:

| Pin | Signal name | Description | Wiring |
| --- | --- | --- | --- |
| 1 | VREG_FP_USBPWR0 | Front Panel USB Power (Ports 0,1) | +5V connector 1 |
| 2 | VREG_FP_USBPWR0 | Front Panel USB Power (Ports 0,1) | +5V connector 2 |
| 3 | USB_FP_P0- | Front Panel USB Port 0 Negative Signal | -D connector1 |
| 4 | USB_FP_P1- | Front Panel USB Port 1 Negative Signal | -D connector 2 |
| 5 | USB_FP_P0+ | Front Panel USB Port 0 Positive Signal | +D connector1 |
| 6 | USB_FP_P1+ | Front Panel USB Port 1 Positive Signal | +D connector2 |
| 7 | Ground | | GROUND connector 1 |
| 8 | Ground | | GROUND connector 2 |
| 9 | Key | | n/a |
| 10 | USB_FP_OC0 | Front Panel USB Overcurrent signal (Ports 0,1) | n/a |