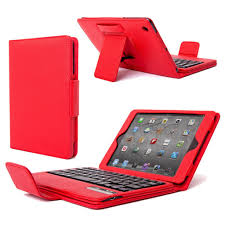 When it comes to portability, lightness and convenience, the tablets are the best in these categories. However, if you are on the productive side, the tablets have one big problem with regards to their design and that is lacking the physical keyboard. Even these have the expediency with their virtual keyboards on their touchscreens, the physical keyboard still does makes the perfect partner when typing. With this, typing is faster, more accurate and both hands are working which makes your typing job so much easier.
Nevertheless, even though tablets are basically designed for browsing, gaming, chatting and video watching, these can be very useful if you match them with keyboard cases and make them like your laptops. In this aspect, you don't have to carry your iPad and laptop both when traveling.
The Need for Keyboard Cases
Fortunately, many companies now are producing keyboard cases particularly for the iPads. With the iPad case we can use our tablets even for work while the arduous task of lugging a laptop and a tablet has been greatly reduced. Although it's true that laptops can accommodate more apps, have more ports and can be installed with Microsoft Office, we can now also install MSOffice in our iPads and use it as your computer.
And did you know that with the keyboard cases your iPad is more protected that even if it drops on hard surfaces, there is only a 40% probability that it will break? That's true. Much like your cellphones with casings, the keyboard cases do provide utmost protection making your gadget live longer even you are always on the go.
Previously, keyboard cases are connected though USB ports. But today, most cases have Bluetooth connectivity. Some also have iOS specific function keys for volume and screen adjustment and you can also control everything right from the keyboard to your iPad. These also have their own rechargeable batteries that can last for days or weeks without charging. You can also have a good choice between protective case and stand-alone models.
Furthermore, in spite of the nice features and the usefulness of the keyboard cases, choosing the one that can meet your needs can be a little harder. So maybe these tips would help you choose.
Criteria in Choosing The Best iPad Keyboard Case
Adjustability
If you are an avid fan of iPads, you may have two iPads in possession. The first unit is either iPad 2/3/4 and then you have the iPad mini. Since these vary in thickness, weight and dimension, you may opt for a keyboard case that is highly adjustable. A lot of cases today have wider back cover and their clip holders have stretchable cords.
Removable Free Style or with Fixed Hold
You have two options here. If you need a more solid keyboard right on your iPad, the keyboard built-in case is more appropriate and have more solid hold like it is fixed. If you are not always typing and don't want the bulk sometimes the removable keyboard can fit your style.
Preference Between Usability and Portability
If you need to maximize your typing experience, the stand-alone keyboard model can fit your needs. This type of keyboard is not actually a case but it is a keyboard with a holder for the tablet. The keyboard and tablet are connected with a USB cable.
The stand-alone keyboard has a standard key layout like a desktop. But if you want the more portable keyboard that can also serve as a cover, the keyboard cases must be your things here. However, the size of the case typically follows the size of your tablet so if you have a small tablet, you get a narrow keyboard with crowded keys of course. You'll get used to it somehow.
Choose Your Style of Keyboard Cases
There are different types of keyboard cases that can match everyone's needs and style.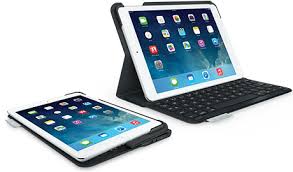 1. Folio-case keyboards
The folio keyboard cases are integrated into the full body of the case which covers your iPad. It's an all-in-one design that is very convenient to use and you can sit it right on your lap. No table or desk required. These also have very thin keyboards and usually its stands are multi-directional. Available folios are made of leather and plastic shells. There is no slot to insert your iPad but only the back cover is supporting it.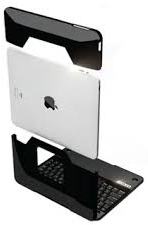 2. Clamshell keyboards
You want your iPad to become like a true laptop, the clamshell keyboards are best for it. Your iPad serves as your screen and the keyboard serves as the laptop base and enclosure. You also have a palm rest on the keyboard and though the keys are also a bit cramped, these have more improved layout compared to folio cases. You also have good screen angles and a better typing lap experience. The downside, however, it's a bit bulky and weighty and makes it hard for you to use your iPad if you don't need the keyboard at the moment.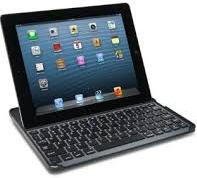 3. Keyboard shells
If you want the lightest and thinnest among the keyboard cases, the keyboard shells can integrate well with your iPad and has a very thin keyboard but with rigid shell that can protect your iPad securely. It's also easy to use. Once you are on for typing, you just insert your iPad on its slot, let it connect through Bluetooth and start typing right away. Once you are done, you pull your iPad out and lock it on top of the shell. The hitch however is that the keyboard shell can only offer you a single angle though you can choose your viewing orientation with your iPad on either landscape or portrait. It is not also stable for lap typing compared to clamshells and folios but are nice for desk or table use.
If you need further help in choosing the keyboard case style for your iPad, you can also indicate the model of your iPad or tablet on Google and you will be presented with a lot of keyboard case options.