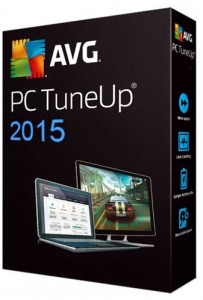 One of the most popular registry cleaners that is raving a lot of positive reviews lately is the AVG PC TuneUp 2015. With the assessment it gathers, it is now recommended for pc users who have the usual problems of computer slowdowns caused by fragmented hard drive, stored junk files and broken links that cannot be fixed by other registry cleaners.
Let's see how this program works based on reviewers' findings:
• Pros
It can enhance your system performance by scanning your computer's system overall without bypassing any root and you can fix the found errors fast. It will monitor your system in real time and report any system's anomalous processes. With just one click, it can do system repair.
• Cons
Its license is limited only for one computer use. Adding another license online can cost $10.
• Bottom Line
It's capable of rolling out the previous health of your old Windows by running its system-cleaning performance so you have more optimized computer operation. Specifically it can fix your broken registry, eliminate junk files and hasten your computer's boot time.
Based on general reviews, AVG PC TuneUp 2015 can improve your computer's performance simply by eliminating insignificant installed programs and junk files that may be causing your system to slow down. It also has the means in defragmenting your hard drive, clearing your browser of any junks and deleting leftover files and links which can be the causes of your computer's stalled state.
Compatible with almost any type of OS which include Windows XP, Vista, 7 and 8, activating it is also easy. Once you get connected to the Internet, your license number will be your key to run the program for a year. You will also have the option to update it on auto or manual mode.
The AVG PC TuneUp 2015 is also very easy to use even newbies with computers can easily exploit it to revive their computers. With a complete system scan that goes through your computer's registry, it will know if your computer has a defragmentation problem and other unusable programs or files that have been in your registry and causing complications when you run your usual programs. It is also equipped with tune-up utilities that you can utilize to maximize its usage and this we will discuss below.
What's with this Program?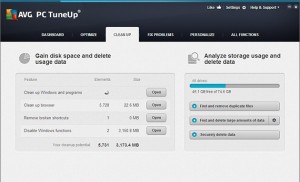 The AVG PC TuneUp Utilities of 2015 have a front page that has six sections. These are the Dashboard, Optimize, Clean Up, Fix Problems, Personalize, and All Functions. Each section has its tab.
Under the Dashboard is the Maintenance, PC Performance, PC Health and Rescue Center board. These tabs allow you to scan your computer's registry and fix the errors it finds as well as offering you solutions in case you have a messed-up registry.
Under the Optimize section board are your choices if ever you want to disable or uninstall programs for a refreshed computer state. You can also defragment your hard disk on this section.
Under the Clean Up section are the options if you want to search and clean your hard drive, fix or remove broken links, and turn off unwanted programs from running. You can also prompt your program to find duplicate files in this section.
Under the Fix Problem section is the option to fix common problems, check hard disk for errors, and restore deleted files.
Under the Personalize section, this will let you adjust your computer's settings, visual effects and much more to maximize the potential of your computer.
Under the All Functions are the complete options found above.
If you want a quick scan of your computer as well as the quick fix without going over all the functions, clicking the window AVG 1-Click Maintenance will prompt the program to automatically scan your system, find problems and fix everything as well.
Found at the bottom of the screen is your program's Optimization Potential. This will let you know if you have fully used your program's capability to make your PC return to its former healthy state.
Other Powerful Tools
The program has other tools that let you maximize its potential. It has the Duplicate Finder tool that can identify duplicate folders and give you the option to exclude file types. For example, if you have two files that have the same file name but have different extensions (.doc and .xls), you can only search for the files with .doc or .xls extensions so that accidental deletion may not happen. More so, this program can also keep deleted files for your review.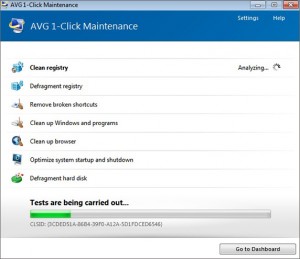 The AVG PC TuneUp 2015 is also updating itself with cleaning defining tools. You can instruct it to remove certain files that have been left over when you have uninstalled some programs such as an antivirus, Adobe Photoshop and all other remnants from your previous programs. By permanently deleting them, you can free up large space and refreshes your registry once and for all. If your antivirus software is also not active or not present, you will also receive a prompt from the program and warn you.
The PC TuneUp 2015 also features useful functions like backup data and recovery, Windows customization, file deletion, battery settings for economy, and much more. You can run the scan and clean your system anytime you want and fix errors with no limit and you will notice that your PC will run as smooth as it's new. Priced at $39.95 with money-back guarantee.
Important Note:
In case you have run a setting that has changed your video and internet settings and you don't like it, you can always undo changes under the Dashboard – Rescue Center. Or do the System Restore and your computer can go back to its previous state.
By clicking the Start button and typing system restore, you can choose the previous date prior to the installation of the AVG PC TuneUp 2015.
However, the state of your unfixed computer may be reverted. In which case you can fix it again using the AVG TuneUp but remember not to touch the setting you have set before which prompted you to deal with System Restore.